Margaret River Police Station & House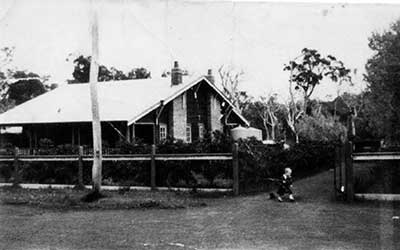 The police station and house was built by Bob Whalley in 1928/9 as the town was previously serviced from Busselton. The last of these policemen were Les Cullerton and Percy Gannaway. The first Margaret River police officer was constable Clarry Wyatt who served from 1929 to 1936. He was succeeded by constable Les Winton who served until 1938 where he and family decided to buy property in town and start a business.
Then constable Rule operated until 1942 who was succeeded by constable St Jack till 1944. Then constable King operated until 1946, then constable Jenkinson and assistant constable Laurie Shervington operated until 1953 when constable Forrest Beard took over till 1953. In 1954 constable Bill Dickenson was on duty till 1956 to be succeeded by constable Denis Hilton and assistant constable Ron Sparks who was also on duty in 1954. In 1957 constable Hubert Woods was on duty and now constable Ron Sparks, who was very prominent in the 1961 Karridale Bush Fires of 1961, continued on with constable John Anderson to the new police station in Town View Terrace which opened in 1965.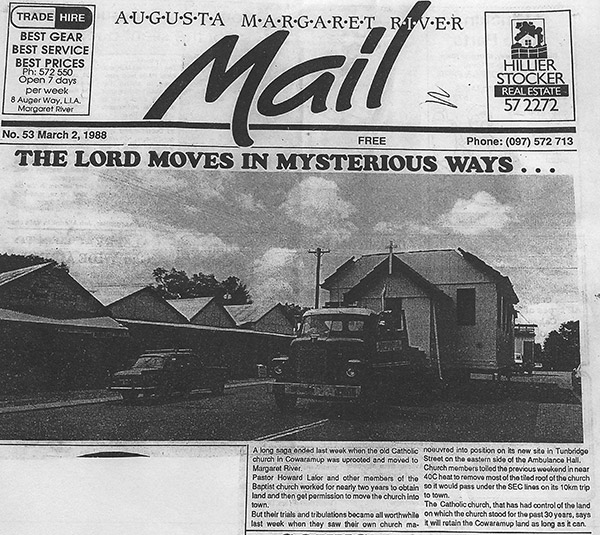 That same year the police building was moved to Augusta where it served that community for many years. The house was sold and Mr and Mrs McMurray lived there for many years and for some time used for a business. Now used as a private residence.
The Margaret River Baptist Church purchased the site in 1987. They also bought the Cowaramup Catholic Church which was transported to this site in 1988, see AMR Mail story above.
---
References
Reference map of Margaret River with site numbers
Margaret River Town 1894-1984 by Mavis Wise
Margaret River Stories by Guy Jennings, ISBN 9780646575346
A History of the Catholic Community of Margaret River District by Merilyn Hutton
Margaret River & District Historical Society photo collection
John Alferink from my recollections of the town after being in the area for over 68 years, John Alferink 2021