Land taken up by A.T. Armstrong and W. Lucas in 1925/6 and they built a shop and residence. It was sold to Charles West in 1927/8 who continued the store dealing in groceries, drapery and hardware. The town's second post office was added including a telegraph sending system.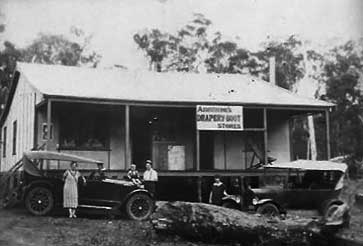 That continued until 1956 when a new post office was created where it is now on Willmott Street and Town View Terrace.
After this the building was used as a betting Shop before the TAB took over and set up site 44. Later bootmaker Ted Zuck operated here until 1963 when the building was demolished. The land was purchased by a group of local tradesmen Stewart Thomas, Stan and Margaret Gale, Geoff Shaw plus others to build a motel unit which became known as the Captain Freycinet Motel in the 1980. That has since been redeveloped to be known as Darby Park and now Margarets In Town Apartments.
---
References
Reference map of Margaret River with site numbers
Margaret River Town 1894-1984 by Mavis Wise
Margaret River Stories by Guy Jennings, ISBN 9780646575346
A History of the Catholic Community of Margaret River District by Merilyn Hutton
Margaret River & District Historical Society photo collection
John Alferink from my recollections of the town after being in the area for over 68 years, John Alferink 2021