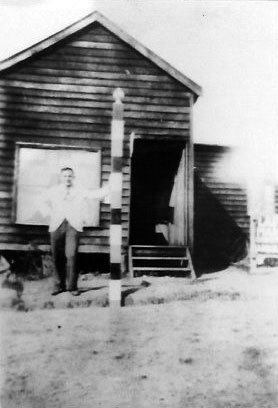 This lot was gifted to the community by Thomas and Elizabeth Higgins to the community in 1912 and the town's first community hall was built which served the district for over 25 years.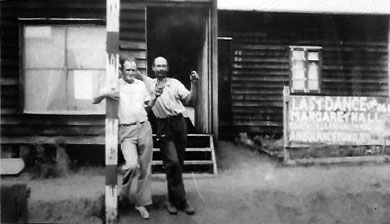 This hall was also used by the then local doctor in Dr William Rigby and a bank manager Mr MacIntosh from Busselton. Vinty Fee operated a hairdresser shop in this building hence the barbers pole outside. Also dances were held and picture shows by Owen Terry were shown.
Then in 1936 the town's second hall was built where Woolworth is located now and the building was moved to Gloucester Park to be used for sporting clubs change rooms. It was mysteriously burn down and the land was bought by a G.W. Pickering and H.G. Mann. In 1947/8 it was used by the RSL and in 1962/3 A.J. and V.O. Brusachi, who also owned lots 3 and 4, commenced the Shell Roadhouse complex. They sold in 1965/66 to McDonald and Son. From 1972 the property was owned by in McKay, D. Black and L.F. Davis, Shad and Ellen Nixon and Mick and Lori Roberts. From then on it is owned by the Neil Myles. Now City Discount Auto Tyre Service and Shell Coles Express.
---
References
Reference map of Margaret River with site numbers
Margaret River Town 1894-1984 by Mavis Wise
Margaret River Stories by Guy Jennings, ISBN 9780646575346
A History of the Catholic Community of Margaret River District by Merilyn Hutton
Margaret River & District Historical Society photo collection
John Alferink from my recollections of the town after being in the area for over 68 years, John Alferink 2021