This building is still in its present state with some additions but in 1925/26 it was comprised of a house at the rear and shop on the front for a Harold Selbourne.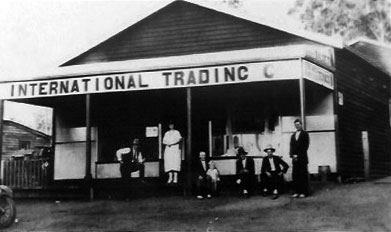 The shop was known as the International Trading Company. In 1928/9 it was bought by M. and I. Burns, continuing the same business. A tearoom building was added next door called the Cosy Corner run by Mrs Brewer.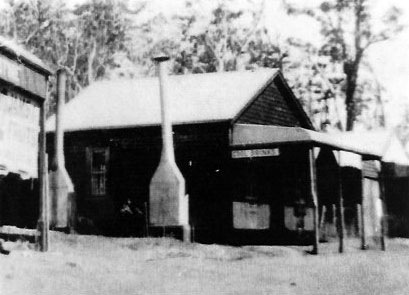 In 1931/2 W. Lucas continued the store and Mrs Forsythe the tearoom. In 1934/5 Mr E Pummell was added as a bootmaker. George Fearn started a drapery shop in 1938/9, H Brockman managed the house and Mrs Dolly the tearoom and sweet shop. In 1944/1950 it became an Elders Smiths (present Elders GM) agency operated by a Bill Duggan and the house was occupied by J. and R. Burgoyne. In 1953/54 Mrs Mary Dunnett (formerly Miss Mary Higgins) bought the house and shop where her son in law Frank Rose operated a furniture shop.
The Cosy Corner was demolished in 1954. In 1974 Mrs Dunnett offered the shop to the town's first craft group in Mondyne Arts and Crafts to rent at peppercorn sum and this club bloomed in attracting some 80 member of different craft groups. Many open days and exhibitions were held here up to it's closure in 1987 when both building was sold to another group of artisans, Doug Meikle, Rick Sneider, Lynn Fenty, Shaun and Saul Atkinson, Nonie and Les Giralt, Terry Stanley, Elliot Morris, Kent LeGrande, Gerry Reilly, Michael and Penny Wise, Mark Heussenstamm and Peter Kidd who eventually refurbished both buildings into the present JahRoc Galleries.
---
References
Reference map of Margaret River with site numbers
Margaret River Town 1894-1984 by Mavis Wise
Margaret River Stories by Guy Jennings, ISBN 9780646575346
A History of the Catholic Community of Margaret River District by Merilyn Hutton
Margaret River & District Historical Society photo collection
John Alferink from my recollections of the town after being in the area for over 68 years, John Alferink 2021