Building residence on the back of this block was built by Less Mann for Robert Leslie in 1927 who purchased a bakery business from William Davis and Andrew Murphy which also included a bakery shop which was built in 1925 in front of the residence alongside Bussell Highway.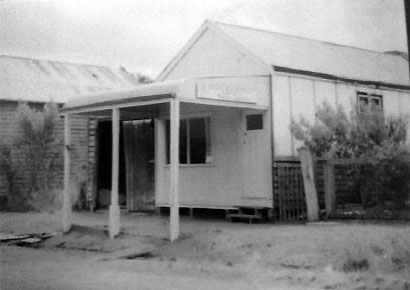 Robert Leslie employed Ernest Mansfield as baker manager who first lived in the house but in 1932 Robert Leslie died. Ernest Mansfield bought the land plus several other properties nearby. In 1938 George Dines (an apprentice baker for Mansfield) and his family moved into the house.
The shop in the front was used by the CWA in 1949 and the first Margaret River Library operated here for one year in 1955. In 1965 the house was occupied by the town's only doctor Dr D. Clarke-Stephenson for a couple of years. Mr Ned Harrington and family lived here until the house was removed and the new complex was built. Around 2011 a new building was built known as Winos which continued until 2013 when the present Swings and Roundabouts Restaurant was opened.
---
References
Reference map of Margaret River with site numbers
Margaret River Town 1894-1984 by Mavis Wise
Margaret River Stories by Guy Jennings, ISBN 9780646575346
A History of the Catholic Community of Margaret River District by Merilyn Hutton
Margaret River & District Historical Society photo collection
John Alferink from my recollections of the town after being in the area for over 68 years, John Alferink 2021