This site was a boarding House also known as the Tin House because it had a lot of the old pressed tin on it.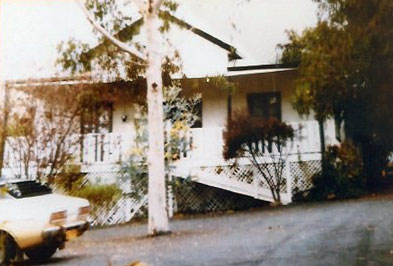 Built in 1926 for R. Curry who, with his father Captain Curry and brother J. Curry, managed the International Trading Co store nearby. Mrs Curry began a guest house and took in guests arriving in Margaret River from the usually overdue train late at night. Then Mrs Curry sold the house to Mrs I.A. Burns in 1928.
In 1932 the building was sold to the Order of the Sisters of Hungary (Church of England) until 1941 when Mrs Harders, who's son John was an accountant for the then NSW Bank, bought the property. Mrs Harders took in other bank employees: Miss M.Monks and Miss D. McKinnon. In 1943 N.Reitze, also a bank employee, owned the house until 1952. Mrs Alma Whitewood lived here operating the boarding house up to her death in 1963. Soon after, the building was bought by Mr Charles Cordell and he was here in the 1980's. The building was used as a surgery by Dr Ray Clarke in 1985 and at present is a backpackers hostel known as Inne Town Backpackers.
---
References
Reference map of Margaret River with site numbers
Margaret River Town 1894-1984 by Mavis Wise
Margaret River Stories by Guy Jennings, ISBN 9780646575346
A History of the Catholic Community of Margaret River District by Merilyn Hutton
Margaret River & District Historical Society photo collection
John Alferink from my recollections of the town after being in the area for over 68 years, John Alferink 2021