In 1947 Ken and Mary Edwards built a cement brick building for their hairdressers shop/electrical/fishing tackle shop.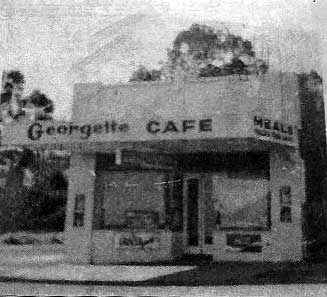 The hairdresser was operated by Smiler Gale and Ken Edwards did the electrical and fishing tackle. His wife Mary ran a small cafe.
Then in 1967 Valentines of Busselton took over the electrical business and Don Bennett was manager. In 1970 Mrs D. Hartnett set up a cafe known as Georgette Cafe until 1972 when Sadie and Pat McKeown continued here for another 4 years.
In 1977 a Eugene Hall bought the land converted the building into a pizza shop known as Bandaleros Mexican Restaurant. Later Garry and Sue Murtagh took over. The building was demolished and a new rammed earth complex was constructed. Now it's Teddis Big Spoon Cafe and The Green Room Restaurant.
---
References
Reference map of Margaret River with site numbers
Margaret River Town 1894-1984 by Mavis Wise
Margaret River Stories by Guy Jennings, ISBN 9780646575346
A History of the Catholic Community of Margaret River District by Merilyn Hutton
Margaret River & District Historical Society photo collection
John Alferink from my recollections of the town after being in the area for over 68 years, John Alferink 2021