In 1929/20 a residence and shop was built for Norman and Kath Terry. Mrs Terry opened the town's first news agency.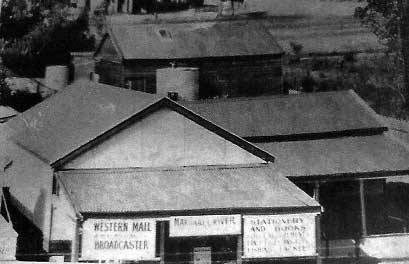 The business was sold to a J.P. Manoni in 1937/8 who operated the news agency and a Mrs Alma Whitewood who operated in part of the building selling pies and confectionery.
In 1942/3 Jack and Agnes Thomas took over the news agency until 1954. From 1956/57 the local newspaper in the "Margaret River Times" was operating under Gerry Middleton and Simon Terry and later in 1959 Norman Fuller up to 1966/7. The building was demolished in 1967 by the local Apex Club for fundraising. In 1985/6 the site was rebuilt using the rammed earth building technique and the restaurant in Spaghetti Bowl Restaurant. Now it has the Burger Baby Grill restaurant and Marine Co clothing store.
---
References
Reference map of Margaret River with site numbers
Margaret River Town 1894-1984 by Mavis Wise
Margaret River Stories by Guy Jennings, ISBN 9780646575346
A History of the Catholic Community of Margaret River District by Merilyn Hutton
Margaret River & District Historical Society photo collection
John Alferink from my recollections of the town after being in the area for over 68 years, John Alferink 2021