Building was built by Bruce Boulter in 1939 consisting of three shops, from north to south: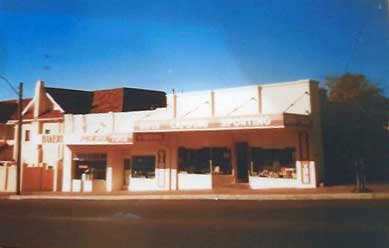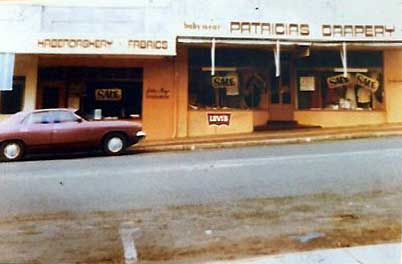 Shop 1: 1939 Bank of New South Wales, 1953 Southern Butcher: Owners Alan Salmon, Bob Ellis, Reg McLean, Ken Shaw, Ray Bell, Frank Demamiel, Ron Elvard  and Vern Davis. Margaret River Bakery shop owner Alex Bilchuris, Flight Centre. This has closed down and now Margaret River Potted Plants is located in this building.


Shop 2: 1940 Hairdresser and S.P Bookie Ken Edwards, 1942/3 Shoe Shop Jack Thomas, 1960 Bookmaker Reg O'Halloron, 1962/3 Electrical and TV shop with Chas Burking who sold to Ken Aitken, 1971/2 Patricia's dress shop with Pat and Ray Aitcheson who sold to Mrs and Mr Cope, 1980 Kath and John Thomson continued the dress shop known as Katie Anne - (Kath Thomson and Anne de Bleucourt) until it was leased to S. Travis photography, 1986 Gift and toy shop owned by Don and Joyce Bennett, Senka Thwaites with Margaret River Memories and now The Sweet Shop.


Shop 3: 1939 Thomas Drapery with Jack Thomas and E. James. 1954 Bedding, Blankets and Floor Covering with Bob Dunbar,  1960 Dress shop with Gwen West who sold to shop no. 2 owners P. and R. Atcheson, 1980 K. and J.Thomson from shop 2 (Katie Anne), 1986 Don and Joyce Bennett Gift and Toy shop, Margaret River Memories owned by Senka Thwaites and now Margaret River Rascals.
---
References
Reference map of Margaret River with site numbers
Margaret River Town 1894-1984 by Mavis Wise
Margaret River Stories by Guy Jennings, ISBN 9780646575346
A History of the Catholic Community of Margaret River District by Merilyn Hutton
Margaret River & District Historical Society photo collection
John Alferink from my recollections of the town after being in the area for over 68 years, John Alferink 2021