This 1885 building was relocated from Karridale by the local Catholic community in 1950 and served as a school for over 20 years. It was originally built for M.C Davies of M.C. Davies Jarrah and Karri Company in Karridale in 1885 as his residence. The timber business operated from 1875 to 1913 and after the building was used for various purposes until it was bought from then owners in Millars Timber and Trading by the local Catholic Community for 400 pounds.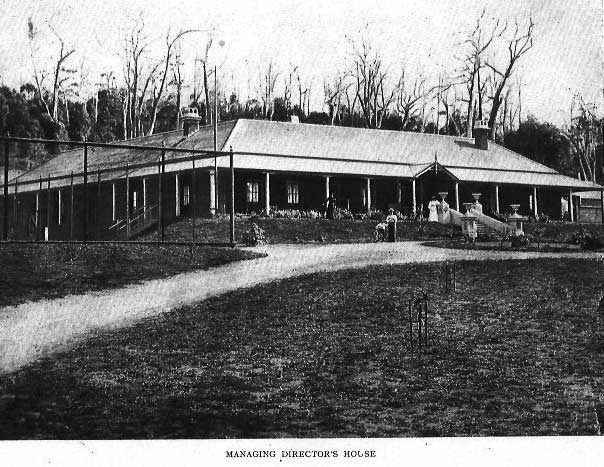 The building was relocated to the site in 1950 under the expertise of Father Phill Farrelly and a lot of very energetic Catholic volunteers which included Jack Culhane, George,Ray, Jim and Dan Power, Kieran Power (Snr and Jnr) the Shervington's (provided a truck), Clem and Gerald Ryan (provided mill trucks), McDonalds, Paddy Ryan, Mick Coffey, Jack Sacristani, Bob Lanigan, Joe Ferguson, Charlie Williams (driver), Terrys and Tom Reidy.
Tom Reidy explains how this operation went about by saying, Tom Barrett and his gang from Busselton were employed to pull down the house. At that time there were a few of RCs at the Witchcliffe Mill. Fr Phill as he was known, collected them up, also the Margaret River RCs. He himself obtained a truck drivers licence and with a fleet of trucks, tackled the job of shifting the large house. This led to setting up the convent for the Sister's of St Joseph of the Sacred Heart which lasted for 20 years.
After the school closed in 1970 the building was purchased by Tony Jackson who operated a karate training centre. Then around the late 1970's Dr Maggie Goldie decided to operate a restaurant known as the 1885 Restaurant. They were followed by Nigel Norman and Phil Day who continued the restaurant. Later it had accommodation units added to the site and the name changed to Margaret River Motel operated by the Hawkins family.
---
References
Reference map of Margaret River with site numbers
Margaret River Town 1894-1984 by Mavis Wise
Margaret River Stories by Guy Jennings, ISBN 9780646575346
A History of the Catholic Community of Margaret River District by Merilyn Hutton
Margaret River & District Historical Society photo collection
John Alferink from my recollections of the town after being in the area for over 68 years, John Alferink 2021